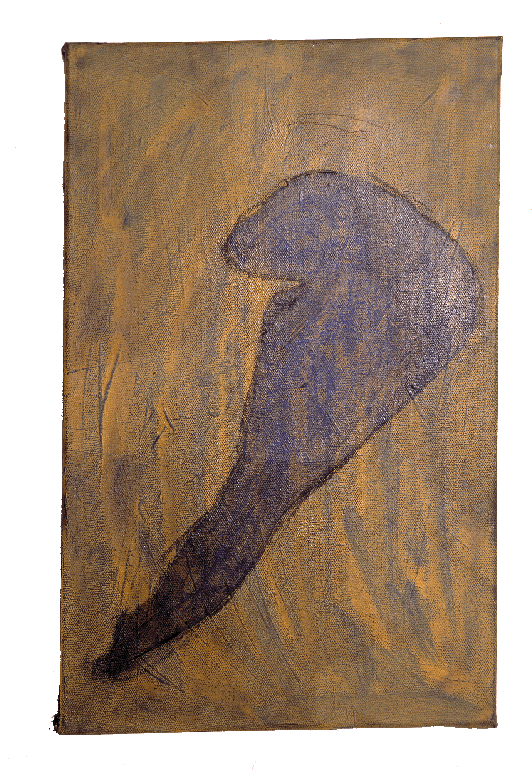 Lars Embäck, Painting, 1989.
12.8 – 10.10 2021
In August of 1991, artists and gallerists in Malmö came together for the exhibition Art Against Aids, in solidarity with the victims of the ongoing AIDS epidemic. The artworks in the exhibition were sold in favor of AIDS research, working towards finding a cure. Both artists and gallerists abstained payment.
The initiator of the Art Against Aids movement in Sweden was the American Bill Rubino, who in the early nineties launched the exhibitions in Stockholm. These exhibitions were shown in several locations across the country. Participating galleries in Malmö were Bengt Adlers Gallery, Galerie Leger, Gallery Lång, Gallery Wallner, Hårlemans Hall, and Anders Tornberg Gallery in the neighbouring city of Lund.
In Art Against Aids 1991/2021 a selection of a few of the participating artists are presented in parallell with the current exhibition with José Leonilson. Some of these artworks were de factor included in the original exhibition in August 1991, other pieces were made in the same time period. According to World Health Organization WHO, AIDS has claimed approximately 36 million lives since the first reported cases and the start of the epidemic in 1981.
Participating artists: Anette Abrahamsson, Marianne Andersson Embäck, Anna Bring, Carin Carlsson, Jesper Christiansen, Peter Dacke, Lars Embäck, Mell Gran, Björn Ross, Thomas Holm, David Krantz, Torbjörn Limé, Leif Palmqvist, Annika Svenbro and Material Magazine.
Art Against Aids 1991/2021 will be shown at Malmö Konsthall in connection to Worldpride 2021 in Malmö and Copenhagen. The works are placed in a separate room adjacent to the exhibition Leonilson: Drawn 1975–1993 in the main exhibition space.